This handle has a brass rose which is patterned and polished. The handle it's self is a stainless steel billet polished and brushed to create the line effect. These are available in various sizes to suit doors or furniture.
The idea behind this door handle was an Egyptian picture of the Sun. Here below is a picture showing the handle before assembly. This item was designed by a customer and made at our workshop.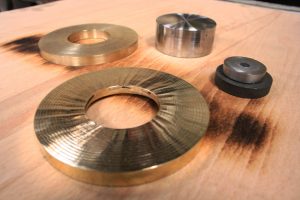 If you would like a custom built item made to your specification let us know.